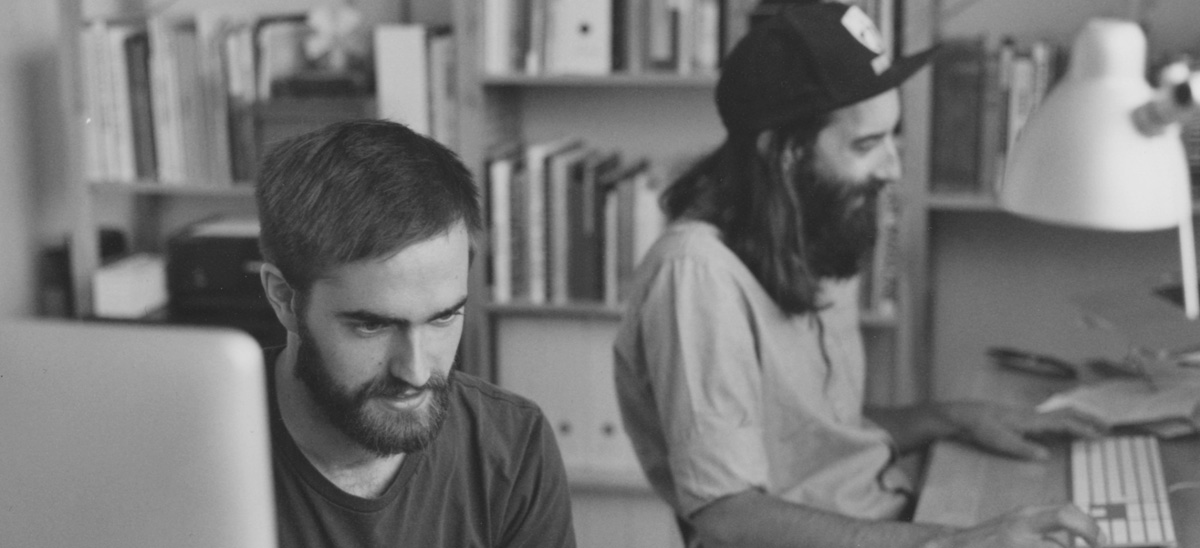 Contact
hello@coppersandbrasses.com

twitter

facebook

instagram

5795 de Gaspé, suite 210
Montréal QC H2S 2X3
Canada
About
Coppers and Brasses is an independent type foundry based in Montréal, specialising in retail typefaces, custom fonts and tailored lettering. It was created in 2012, when Alexandre Saumier Demers and ɉtienne Aubert Bonn were working at the same design studio and began exploring type ideas together until late into the night. The first fruit of their labors was Martha, now one typeface among the ever expanding Coppers and Brasses catalogue. As well as creating custom lettering in branding, paint, stone and gold leaf, Alexandre and Étienne bring their passion for type to industry and the public with consultations, workshops and events —€" all part of their mission to put Montréal typography firmly on the map.
ɉtienne Aubert Bonn fell in love with type while studying for a BA in Graphic design at UQAM, Montréal. He graduated in 2011, earned a certificate in type design at New York's Type@Cooper the following year, and then moved to the Netherlands to take an MA in Type and Media at the Royal Academy of Art, The Hague, where his 2013 graduation project was Nurraq, a Latin/Inuktitut type family. In addition to his interests in letterpress printing, stone carving and sign painting, ɉtienne consults on type-related projects and has lectured type design classes at UQAM.

In 2010, Alexandre Saumier Demers won a one-year residency at Fabrica, Benetton™'s Communication Research Center in Treviso, Italy, where he worked on visual communication and interactive design projects with young creatives from all over the world. Returning to Canada, he completed his BA in Graphic design at Montréal's UQAM in 2013, then moved to the Netherlands to study for an MA in Type and Media at the Royal Academy of Art, The Hague. He graduated in 2014, winning the Royal Academy Master Award and the Department Award Master Type and Media with Lewis, a typeface designed for mathematics. As well as being adept in sign painting and stone carving, Alexandre is an experienced workshop instructor and a programming specialist.